"Ready! Fire!"
―McSquizzy commanding the Furry Tail Clan to attack
McSquizzy is a character in the Open Season franchise. He is one of Boog's best friends and the Furry Tail Clan's leader.
Biography
Beginnings
Nothing is known about McSquizzy's past.
Coming soon!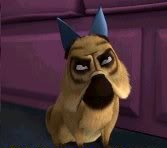 Coming soon!
Coming soon!
Coming soon!
Personality
McSquizzy is usually grumpy, short-tempered, bitter, territorial, irritable, and selfish. However, he is shown by using his anger off at others that are greatly bothered by him, making him not all bad.
He has somewhat of a dislike for Elliot due to his idiotic, confused personality. However, he doesn't completely hate him as he has assisted him on missions.
Appearance
McSquizzy is an Eastern gray squirrel. He has dark brown eyes.
Quotes
Coming soon!
Trivia
McSquizzy is based on Maurice and Mort from the Madagascar franchise.
Once, he was confused to be a red squirrel.
In Open Season 3, André Sogliuzzo disguised his voice as Billy Connolly since Connolly did not reprise his role. Fans of the film had praised Sogliuzzo for his impression of Connolly.
Gallery
References